It's sunny outside this morning and I'm baking the last test batch of Hot Cross Buns before they go on sale on Friday this week. For me this Easter bun indicates the start of Spring and a start to the sunnier months of the year. The coming of the sun and warmth of the Spring always gives my mental health a boost; everything is better with a bit of sunshine on it, isn't it? Hot Cross Buns are also a good comforting food, bringing memories of childhood and the carefree life we mostly have as children. The combination of organic wholemeal and white flour, along with organic sultanas and mixed peel, flavoured with spices and orange zest, is an irresistable one.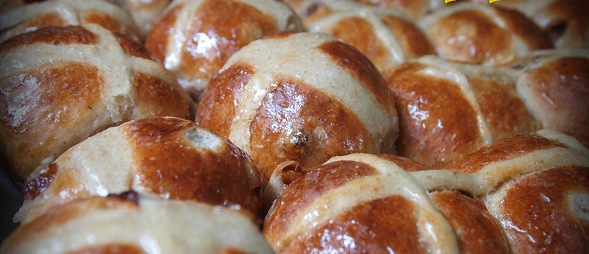 Historically they were only available on Good Friday; with a 17th century bylaw in London making it illegal to sell this kind of bun on days other than Good Friday and Christmas Day. However, nowadays they seem to appear all year round. At Stoneham Bakehouse we're only going to bake them for two Fridays (18th & 25th March), so if you are excited to try these delicious Easter buns, get your order in soon. Email orders@stonehambakehouse.org.uk, or phone 07786927110.
If you can't wait, or want to bake your own but don't know how, we're also running another Hot Cross Bun workshop at The Hive on the evening of Monday 21st March. Starting at 7pm and finishing at 10pm, we bake a batch of buns from scratch, as well as baking some Italian Easter buns which are special to the Tuscan kitchen.
Whether you buy, or learn to bake them for yourself at our workshop on Monday 21st; why not let Stoneham Bakehouse help with your Hot Cross Buns this year. Let's start Spring with a smile.