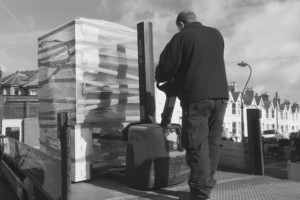 So, this morning was a momentous occasion in the life of Stoneham Bakehouse. We had our oven delivered! We've always wanted to bring an oven into the heart of the community, and now we can say we've achieved that.  It's still to be commissioned, so we can't quite get baking yet, but we're most definitely a big step closer to opening our bakery and being able to nourish the community.
Many of you will have supported our Crowdfunder campaign. Thank you. It's because of people like yourselves that we have been able to get this oven. It's also down to fellow members of the Real Bread Campaign, Tom Chandley Ovens, who sold us a discounted oven, and who drove all the way down from Manchester on a Sunday to get it delivered this morning.
With Easter fast approaching, we've decided to open for a few hours on Good Friday to sell our hot cross buns. Baked in various kitchens across Poets' Corner, these mark the last bake we'll do in our former state as 'gypsy' bakers. Come along to the Bakehouse on Friday morning from 9, pick up a hot cross bun, and whilst you're there check out how we're getting on with making the place into a bakery.
Over the last few months one of the things which has heartened us, and kept us motivated, has been people knocking on the door when we've been painting, or catching us in the street, to express their excitement for the bakehouse coming to Stoneham Road. It's great to hear people supporting our mission. Being excited about the prospect of real bread on their doorstep, but also backing us to help nourish the community's wellbeing. We got a nice mention from our local MP Peter Kyle the other day saying just that.